Exclusive Meeting Room for Rent in the Heart of Luxembourg City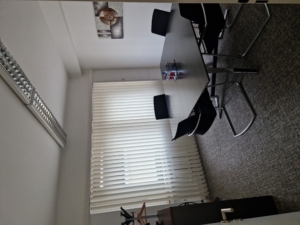 Price: 35€ / hour
The Ideal Setting for Your Next Business Gathering
In the bustling centre of Luxembourg City, nestled amidst eminent landmarks and vibrant urban life, sits a unique opportunity for businesses of all types and sizes. It's not related to architecture or the grandeur of historical landmarks; it's an offering that caters to the dynamic needs of contemporary professionals and enterprises.
We are thrilled to present a stellar meeting room for rent, located right in our city centre location. An opportunity like this doesn't merely spell convenience; it opens the door for enhanced business interactions against a backdrop of one of Europe's most thriving cities.
Prime Location with Exceptional Convenience
One distinct, persuasive advantage of our meeting room is its prime location. Stationed at the heart of Luxembourg City, it proves incredibly convenient for both local businesses and those journeying from afar. While its surrounding energy pulses with the city's vibrance, the meeting room itself is a sanctuary of calm and focused productivity, ensuring the best of both worlds.
State-of-the-Art Facilities for Maximum Potential
Forget about traditional, plain-jane conference rooms. Our meeting room is designed to challenge the status quo with state-of-the-art amenities and a facilitating environment. While we're steering clear of discussing the architectural aspects, you can expect an interior that is aesthetically pleasing, strategically designed and meticulously maintained.
The room is fully equipped with cutting-edge technology, including high-speed WiFi, top-tier video conferencing facilities, and a sleek, modern conferencing phone system. This ensures seamless communication, making it perfect for presentations, pitch meetings, trainings, workshops, or for those essential discussions that drive your business forward.
A Uniquely Adaptable Space for Every Need
Our meeting room isn't just a space; it's an adaptable solution tailored to suit diverse business requirements. Whether you're a startup needing to brainstorm new ideas, a top-tier firm hosting clients, or a passionate team tackling a critical project, this space molds to your individual requirements.
Enhance Your Professional Image with Style
Positively, hosting meetings in a prestigious city centre location vastly improves perception. It naturally enhances your business's professional image, demonstrating your commitment to quality, efficiency, and style. Our city centre meeting room is more than just a space; it's a tool that has the power to elevate your professional standing and leave a lasting impression.
Your Success Is Our Success
Enabling your success is at the forefront of our offering. We're excited to present you with this golden opportunity to propel your business to new heights in one of the most coveted locations in Luxembourg City. Exciting times are ahead, and we look forward to being a part of your professional journey.
Connect with us today to explore our meeting room availability and discover how our city centre location can contribute to your thriving success.
Seize this opportunity. Welcome to the next level of business interactions.